Interview Waiver Experience for H1-B1 Visa
I've learned a few new things since I last posted about how other Singaporeans can apply for, and receive, the H1-B1 visa.
In renewing my visa in Singapore this September, I opted for the new-ish interview waiver process (available since 2021).
Although I have never had a rejection, going to the US embassy is always a stressful time. You see so many people (usually non-Singaporeans) getting their work or school dreams dashed at the window. You can hear everything. The high stress, high security: I would very much like to never go there again.
The interview waiver process was made available to me at the last step of the visa application, in the USTravelDocs portal. When scheduling step 6 here, USTravelDocs will ask you a bunch of questions to determine if you are eligible for the interview waiver.
The main thing to note is that only Singaporeans and permanent residents are likely to be eligible. While the main applicant for H1-B1 has to be a Singapore citizen, if your dependents (spouse or children) are not Singapore citizens, then they will not qualify for the interview waiver. Definitely allow more time for an embassy interview if that's the case.
I was nervous about whether or not to do this, so I consulted a Singaporean immigration attorney in California. Junwen was able to give me very specific advice that I found helpful. Check out his blog here. I highly recommend booking an appointment with Junwen (send him a message on LinkedIn) or use this contact form to email him if you have any specific questions (paid consultation).
He advised that I should use the Chinatown document drop-off point at Bstone Travel, instead of the Changi location. This is because his clients had some challenges with the Changi location recently, which led to delays.
He also informed me that the interview waiver process can take anywhere between 4 and 11 days.
Document collection and drop-off point
Because I find the USTravelDocs so ridiculously difficult to navigate, I am pasting this information here for anyone who needs it.
Check that the information is still accurate before you rely on it though, I may not be updating this page with new information.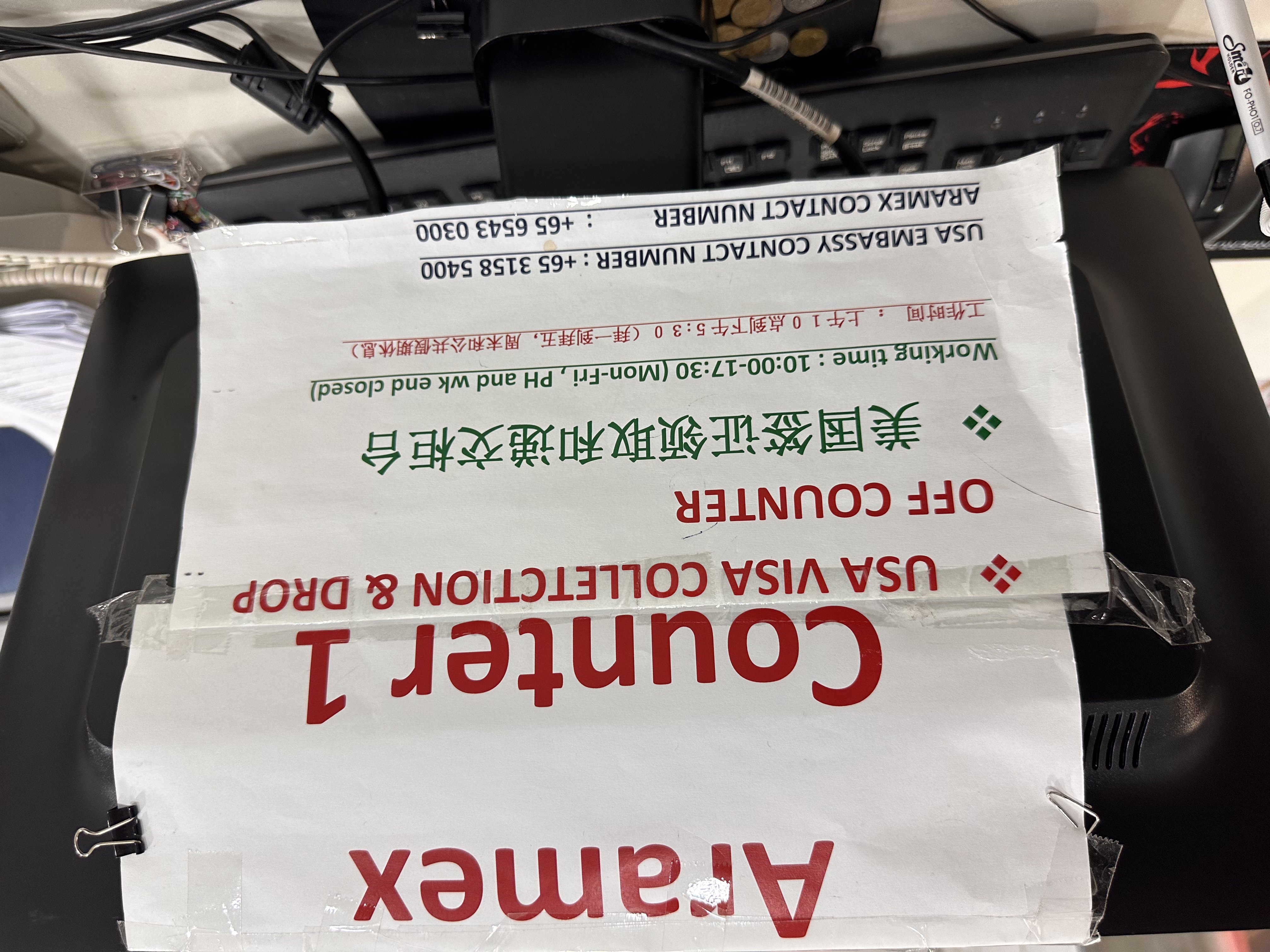 Aramex at Chinatown, located at Bstone Travel, People's Park Centre, 101 Upper Cross Street, #B1-31, Singapore 058357
Opening hours: 10am to 5.30pm, Monday to Friday
Closed on Singapore public holidays and weekends
US Embassy contact number: +65 3158 5400
Aramex contact number: +65 6543 0300
The email you will receive about dropping off and collecting your passport / visa says they open at 11am, but they actually open at 10am. At least, they did, as of September 2023.
Interview waiver timeline
I dropped off my documents (passport, signed LCA, interview waiver confirmation code generated by USTravelDocs, and passport photo) in Chinatown on a Tuesday afternoon around noon.
I checked the visa status tracker every day and did not see any change until Thursday, when it changed to Approved
On Friday, the status changed to Issued
On late Friday night, I received a text message saying that the passport will be available for collection soon
As all the document collection points are closed on weekends, I didn't hear anything else until Monday
On Monday morning, I got an email that my passport had been sent to the pickup point (the same place I dropped off my passport)
On Monday morning, I joined the line at 10am (although Google Maps, and the email you get, says it only opens at 11am), and got my passport in 15 minutes (there was a line)
Excluding the document pickup and drop-off days, it took 3 working days in all. Maybe dropping off on Monday first thing in the morning would have been faster, but I wasn't in a hurry.
It wound up being almost the same as going to the embassy in the past: if I went on a Tuesday, I would have received my passport on a Monday morning anyway.
So I got to do that, but skipped the anxiety and stress at the embassy. Highly recommended. Just make sure you have ample time in your travel plans.